Free Advertising – $100 Free in Google Adwords
$100 Free in Google Adwords Advertising Platform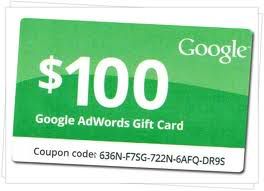 Google Adwords online advertising platform is great for advertising national or local businesses, products, brands or ideas to people searching for those items on Google or to people visiting a website that displays Google Adwords ads. The Adwords platform works much like a normal auction, with different advertisers bidding on different search keywords or website placements. The highest bidder wins the top placement. The best placement has the best chance of having their ad seen and getting users to click and interact with their ad.
Enter coupon code K7EC-VC4S-JS78-8SDC-YUA for $100 Free Google Adwords Advertising
Looking to get started advertising on Google Adwords for free? Enter coupon code: K7EC-VC4S-JS78-8SDC-YUA into the 'Billing Section' of your Google Adwords account for $100 in Free Google Adwords advertising at www.Google.com/Adwords.
Hurry, offer ends March 15, 2012!
*Must be a new Google Adwords account that has not used a promo code before. Non-transferable. Terms and Conditions apply: www.google.com/awexpress/promoterms